FOR IMMEDIATE RELEASE
New Book by Arthur Lipper
Details How to Finance Growing Companies with Royalties
SAN DIEGO, CA, 2-21-17: Famed investor and author Arthur Lipper, has published a new book, "The Larry and Barry Guide to Understanding Royalties; The Better Way of Investing in and Financing of Companies." It is published by Waterfront Press, and the electronic edition is available now for $4.99, through the Amazon Kindle store. In 200 pages, the book uncovers the secrets to investing with royalties, which is fast becoming an alternative to standard equity or debt financing.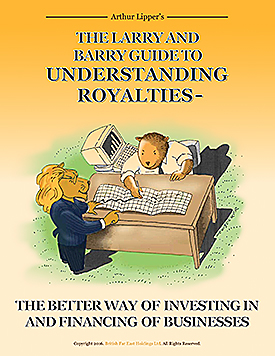 "Investors who own royalties issued by a privately-owned company are focused chiefly on company sustainability and revenue growth. They are insulated from the volatility and possible management of profit statements. Royalty owners using our recommended approach begin to receive regular royalty payments immediately, as the royalty issuing company books revenues," said Lipper.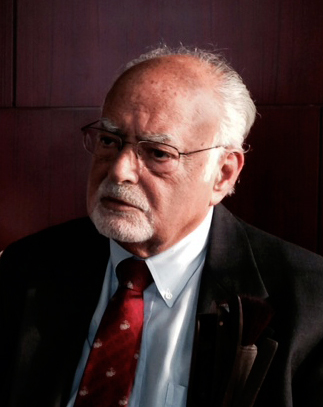 To make a complex set of ideas easily accessible, Lipper uses two notional characters he created, representing business partners Larry and Barry. He used the same characters in his monthly "Chairman's Column" in Venture Magazine, and in two previous books on capital funding and entrepreneurial wisdom.
Arthur Lipper is the developer of a patented method, using a percentage of revenues in the financing of businesses. He is a leading innovator in the field of financial services, with more than five decades of experience in world financial markets. Through the Lipper Index (now a subsidiary of Thomson Reuters), and the international Lipper Fund Performance Awards, he pioneered breakthroughs in the fields of mutual fund analysis, stock index futures and mutual funds. Mr. Lipper is a co-founder of Pacific Royalties and China Royalties.
Lipper noted, "This book presents the case for business founders raising capital while retaining full ownership, as well as the prerogatives of setting executive compensation and company policies. Royalties do not vote and royalty owners do not have an ability to influence management."
This book is recommended to business owners and investors seeking increasing income. The electronic edition is available for immediate download from the Amazon Kindle Store.
A complimentary excerpt is also available, at http://www.royalties.website/eBook-17
Contact: Chairman@REXRoyalties.com
###
---